---
Private boat tour Dubrovnik - Korcula highlights
Boat excursion to the island of Korcula for the full day (>8hrs) departing from Dubrovnik
Take a private yacht or speedboat out for a spin along the coast of the Dalmatian islands.
From the sea, take in the beauty of the Elaphite Islands, Mljet Island, and the Peljesac Peninsula in the distance.
Explore the attraction with the professional tour guide (on Korcula - one hour)
Enjoy free time in Korcula to go off and discover the surrounding area on your own.
In Korcula Town, you should check out the House of Marco Polo, St. Anthony's Cypress Hill, and the Abbey Treasury.
This private boat tour includes complimentary drinks onboard as well as transfers to and from your hotel.
---
Overview
Where else could you find a more exciting site for an adventure than the place where Marco Polo was born? During the course of this full-day private boat tour from Dubrovnik, you will have the opportunity to travel to the island of Korcula aboard a private yacht or speedboat. Before arriving at Korcula town, take in the breathtaking views as you sail by the Elaphite Islands, the national park on Mljet Island, and the Peljesac Peninsula. After that, you will have some free time to explore the historic town on your own, during which you can see attractions such as the house where Marco Polo once lived, the medieval city walls, and the Korcula market.
---
Tour itinerary
Meet with your driver at the hotel. We will take you by car to the port where your boat for the excursion to Korcula is waiting for you.
After meeting the crew, the skipper will inform you briefly about the weather forecast, the itinerary, the ship. You are free to talk to the skipper about your expectations for this excursion and the requirements within the itinerary.
Distance from Dubrovnik to the island Korcula is around 50 nautical miles, it takes a 2 hours to get to the Korcula island. On the way, you can stop for a swimming or snorkeling.
When you board the boat in Korcula, you have 2 hours of free time to explore this popular destination.
In the early afternoon, we are starting to return to Dubrovnik. On the way back, we can stop at several places (Elafiti, Marculeti) so that you can enjoy the boat and the sun, swimming...
After disembarking and greeting the crew, the driver will take you back to your hotel
---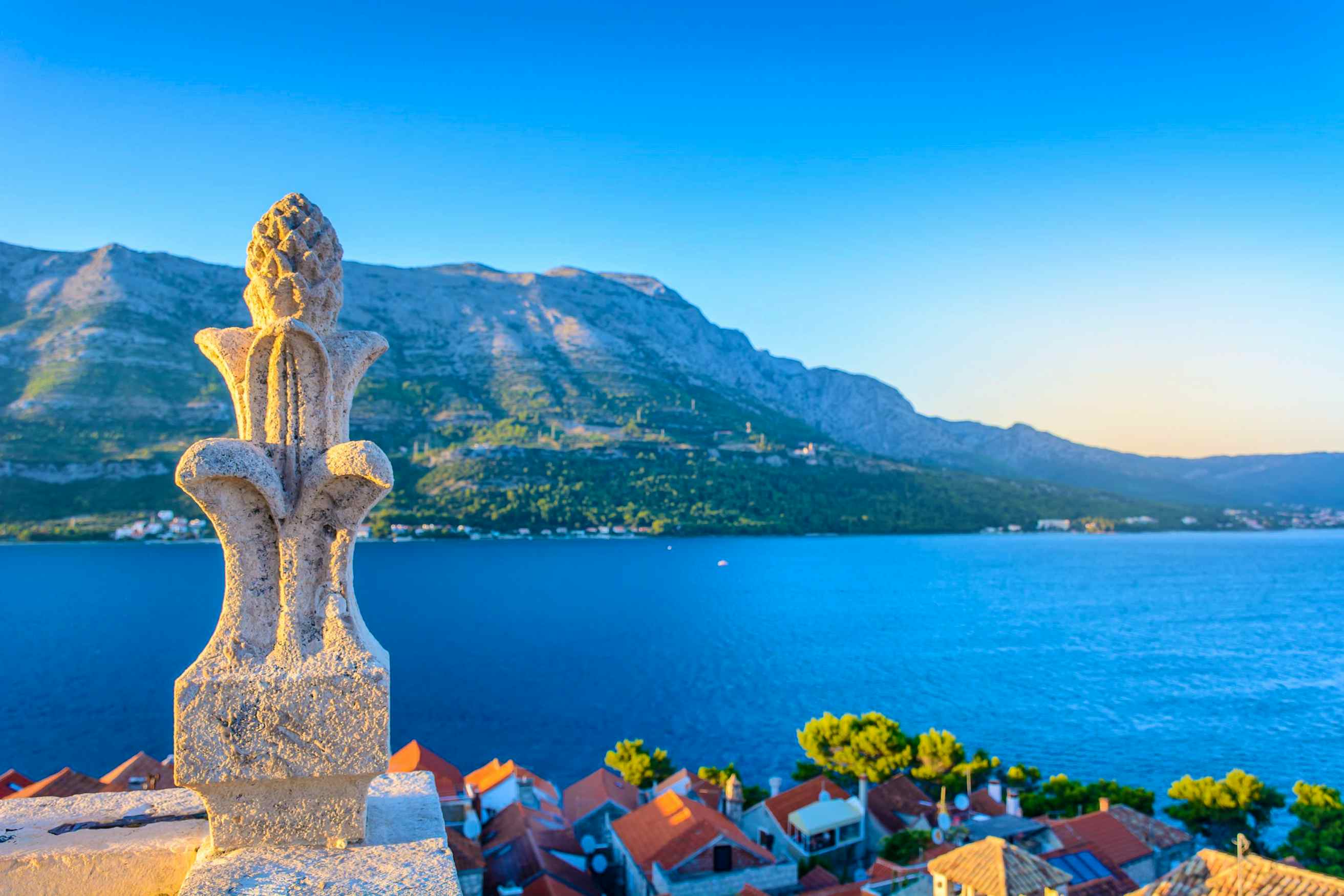 ---
Visit of Korcula with a speed boat or yacht is a great experience and at the same time an option to substitute traffic jams, hot buses, and cars with a boat ride and refreshing sea breeze.
Korcula is situated 50 nautical miles northwest of Dubrovnik and our ride will last approximately 02h00. Besides a pleasant navigation, on our way from Dubrovnik to Korcula you will have an opportunity to enjoy the beautiful scenery of surrounding islands and Dubrovnik littoral.
Upon our arrival, we will dock in front of the old town, and right after you can start to explore Korcula town. You may choose the option for a tourist guide who will share with you all the secrets of this Mediterranean medieval town or you can explore the town on your own.
Korcula is surrounded by walls and it is one of the most romantic coastal cities in Croatia, which nowadays is top destination for tourists and tourist ships that cruise the Mediterranean. The streets of Korcula were created to reflect the bones of a fish, so you will it will be easy to walk around. According to one legend, Korcula was founded by the Trojan hero Antenor, but it's just a legend. The town and Korcula island are mentioned for the first time in the 10th century, while the civilization on the island goes much further back in time. While exploring Korcula, you may also visit a cathedral, city museum, and the house that is believed to be the birthplace of famous traveler Marco Polo who was born in Korcula in 1254, as the son of a merchant.
After the tour, you will have some free time for lunch and shopping. The Old Town of Korcula is famous for its local market and souvenir shops. For lunch, you can choose taverns serving Dalmatian specialties in Korcula or ask your skipper to arrange lunch for you in one of the numerous waterfront restaurants on the way back to Dubrovnik.
Off course on the way back to Dubrovnik boat can stop in one of the hidden gems of Elaphiti Islands drop an anchor so you can have fun such as : swim, relaxing, snorkeling, etc. Please note that stopping might be time permitting and subject to weather conditions. It is a best that you check every detail with our customer service and later inform your skipper about your requirements and needs.
---
What is included
Boat charter with crew
Professional tour guide on island Korcula (1 hour)
Drinks and snacks on the boat
Stops for swimming and snorkeling
No hidden fees (confirmed prices are final)
Hotel pickup and drop off
VAT
---
What is excluded
Gratuity to the crew
Lunch
Fuel surcharge
---
FAQ
Below you can find the answers to the questions that are asked the most frequently.
This private boat trip takes place in the area of the Elafite Islands, you can visit three islands, Kolocep, Lopud and Sipan, inhabited by beautiful small towns. The islands are full of beautiful architecture, created 500 or more years ago in the best possible positions in harmony with nature. Small towns were mostly created as fishing and maritime towns, while today they are attractive tourist destinations with excellent tourist offers, as well as an offer of local products, restaurants, and souvenir shops.
At first, the difference is in the size of the boat, which represents how many people feel comfortable on such a boat to enjoy the sea. Then, if you are not already familiar, the ships have different equipment and designs.
Most medium-class boats are with outboard motors up to 6.5 meters long. Then come high-class boats with inboard engines, which is not necessarily the case.
The biggest difference between medium and high-class boats is in the equipment and design. The high-class speedboat is mostly sporty and recommended for up to 4 people, while the medium class is recommended for 2 people.
Executive boats are 8-9 meters in size, newer years with outboard or inboard engines, but all have toilets. In the Executive class of boats, we are talking about luxury speedboats of recent years with a lot of equipment and an attractive appearance.
Motor yachts are 9 - 11 meters long, with a saloon, flybridge, kitchen, and stern for swimming. Executive motor yachts are 11 - 14 meters long, but more recently built.
Luxury yachts are a story by themselves, this is really about great luxury for people who demand such a service.
If you are not sure what kind of boat you want, consider that the captain of the boat is responsible for providing you with the best possible service. All our captains are professionals and will do everything for you to have a great time.
All boats are shaded, they have a bimini top (canopy) used as protection from the sun.
Medium-class boats are not equipped with toilets.
Some of the high-class category speed boats have toilets.
All executive-class speedboats have toilets and some have bathrooms also.
Motor yachts, Executive motor yachts, and Luxury yachts have bathrooms (more than one)
Note: On the islands, there are also restrooms in coffee bars and restaurants.
We will sail between islands and if you choose to stop on, you can get off and do walking experince tour on your own.
---
---
ADDITIONAL INFORMATION ABOUT PRIVATE BOAT TOUR
Boat tour code: BTO-1-7316-KS
The basic language during the tour: English
Distance covered during the tour: approximately 100 nautical miles
Boarding location and time of departure:
Boarding location: According to the agreement
Recommended time of departure: 09h00 (09h00 AM)
A tour includes:
Professional skipper/crew Stopping on one of the Elaphite islands for swimming and snorkeling (*optional*)
Snorkeling equipment on board
Water Soft drinks Beer
Additional options and tour supplements: Professional tourist guide on island Korcula (*town Korcula*) Tour of museums in Korcula (*Cathedral, City museum*)
Lunch option: Lunch at the local restaurant of your choice or recommendation of the agency (*should be paid in the restaurant according to your selection of food and drinks*)
Note:
This program can be canceled and rescheduled in case of bad weather conditions!
We guarantee a full refund in case that program is canceled due to bad weather conditions!
---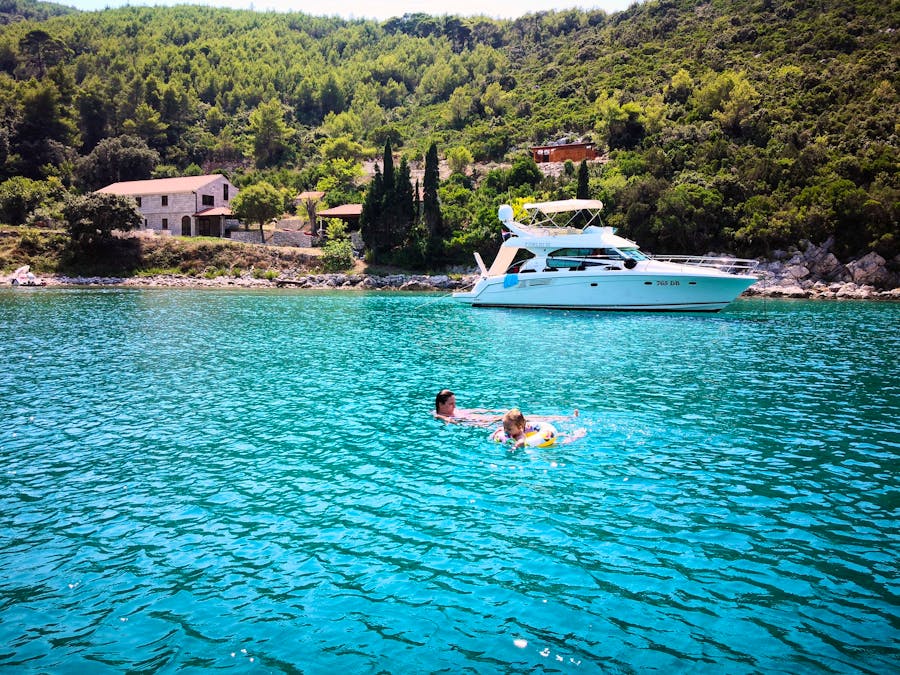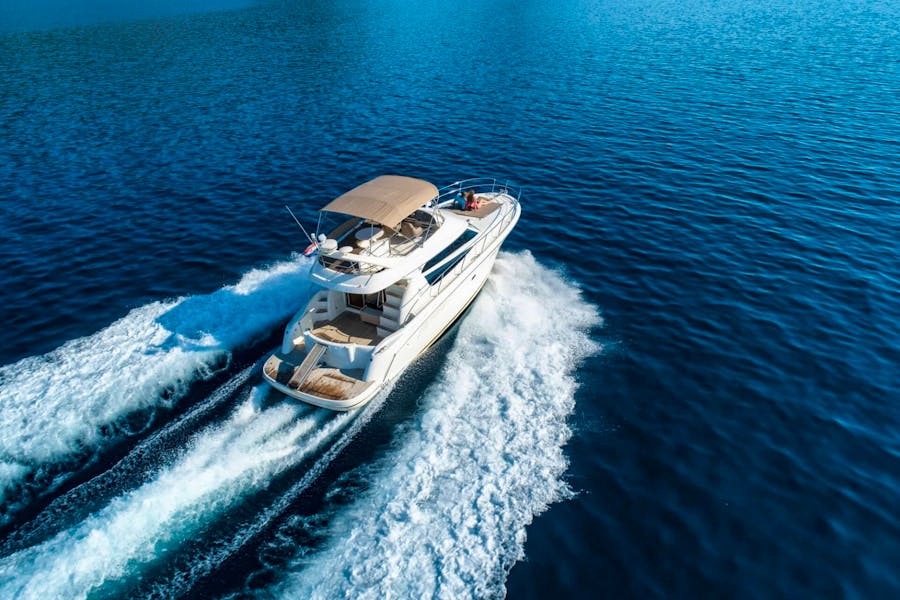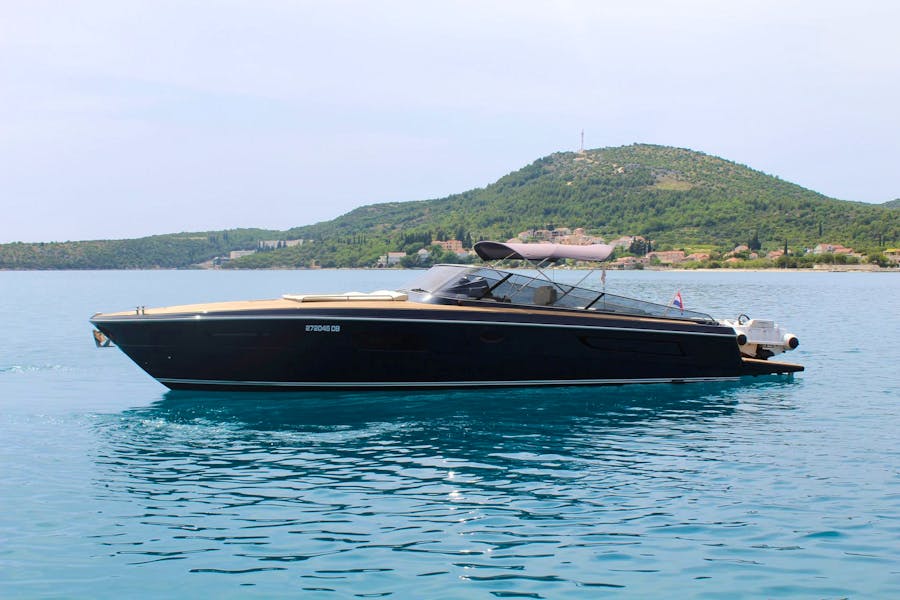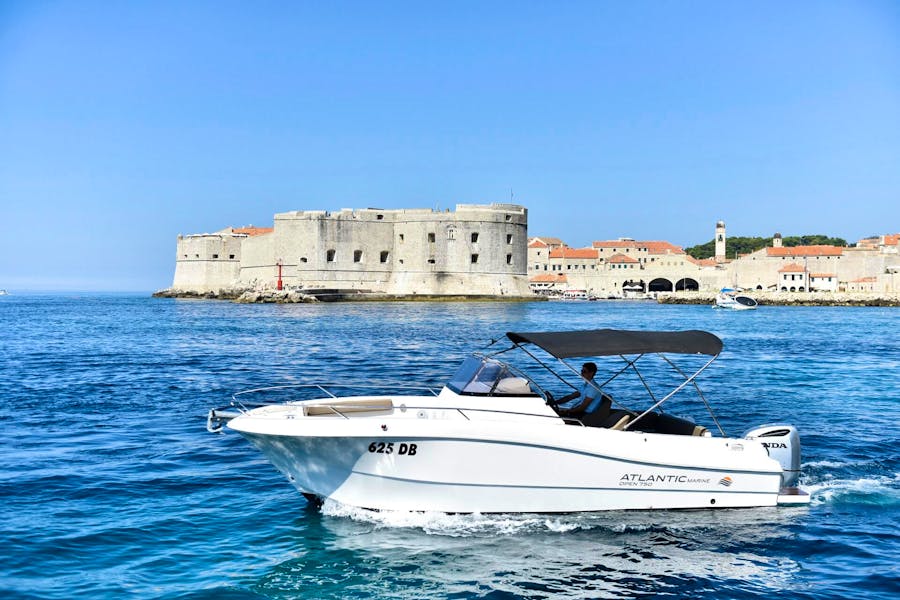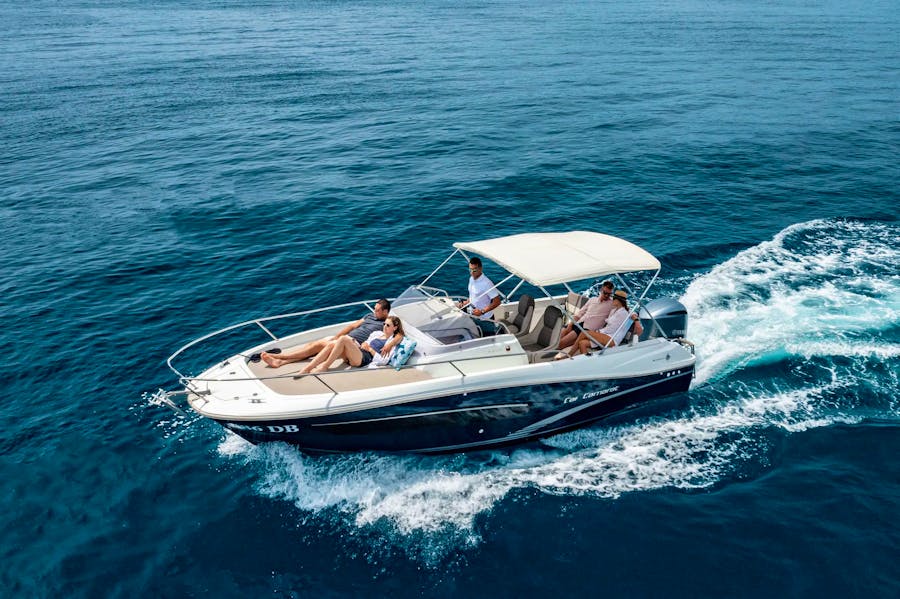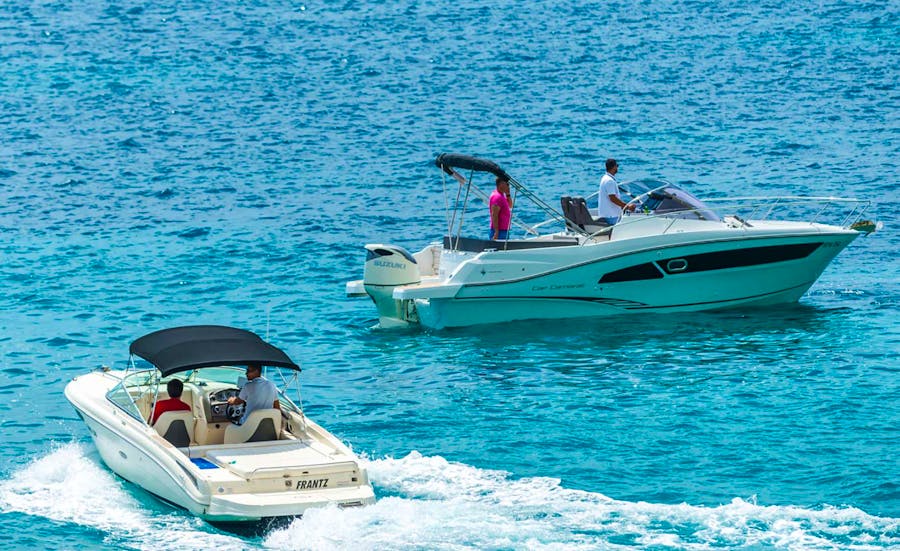 Our captain and tour guide took us to countless beautiful islands surrounding and including Korcula and to the Elafiti Islands in a SeaRay boat and it was truly the highlight of our trip. While others were waiting in lines to take ferries to the islands we were there quickly in comfort and could maximize our time sightseeing. We are planning to return to Croatia in the next couple of years and will engage their services again!!! Our tour guide/ captain was very informative and we had a blast!!!!!
---
Private boat tour Dubrovnik - Korcula
Reserve Now & Pay Later allows you to make a confirmed reservation for most of our services.
Book
---
Benefits
The best selection
Flexible date guarantee
Flexible itinerary guarantee
Fast or instant availability confirmation
Mobile voucher
Secure, fast and easy booking
This private tour can be customized so you can see the sights & attractions that interest you
Customer support 24/7
Return policy
100% if you cancel within 7 days
50% if you cancel within 6-4 days
0% if you cancel within 2 day
Why choose us?
Flexible date guarantee
Quality
Security
Support
Best price
Service
Tailor made
Free reschedule in case of bad weather(Boat tours only)
Full return in case of bad weather(Selected boats only)