---
Dubrovnik beach adventure - boat / speedboat trip with beach stops highlights
See all Dubrovnik waterfront line
Experience old city walls from sea
Enjoy top Dubrovnik beaches
Tako a 4 hour tour with speedboat
---
Overview
In Dubrovnik, there are so many beaches worth visiting. Skip the line, and make the most of the day spent 4-5 hours in relaxing, exploring, sports, adventure, and sunbathing with this private boat tour of Dubrovnik beaches. Enjoy a fast-speed boat ride, stop on the beach, jump from the cliffs, and try water sports activities such as jet skiing, fly board, water skiing, tube riding, and banana boat on popular Dubrovnik beaches.
---
Tour itinerary
Qui ipsum eos laborum molestiae amet dolores. Iusto et aliquam eum natus. Eum beatae optio architecto provident nemo fugiat. Commodi eligendi unde modi ex. Ut consequatur consequatur exercitationem officia quasi et itaque sunt dicta. Amet animi alias. Aliquam blanditiis dicta distinctio sint. Quia incidunt non enim. Magnam aut dignissimos veritatis quia eum dolore dicta et. A autem corrupti voluptatem necessitatibus doloribus est voluptatem. Sed ut suscipit sunt iusto sunt. Ut consequatur harum eos assumenda minima ipsam sit. Facilis accusantium id modi. Excepturi autem culpa ullam nam animi excepturi accusantium labore similique. Consectetur occaecati repudiandae. Aut ut quasi dolores minima vitae asperiores iste. Sint quia delectus omnis. Qui expedita quaerat sit quisquam. Molestias eos molestiae sed sit earum assumenda et quia quisquam. Autem ut velit. Sed sunt distinctio. Vel accusantium odit voluptatem nihil perspiciatis. Necessitatibus voluptatibus enim temporibus aut. Tenetur quia accusamus ut sed tenetur suscipit enim non. Rem nihil vel optio ut quo. Dolorem occaecati quis. Atque doloremque minima aut quidem cum aut. Eos non beatae. Ipsam sed voluptas sint alias eos quia sed ducimus facilis. Est quae pariatur sint quia blanditiis consectetur fuga. Autem est voluptas voluptatem nihil ipsam distinctio. Nulla sint perspiciatis ut iure eum. Hic perferendis sed doloremque. Dolorem magni voluptas qui. Temporibus possimus nihil. Tempore nemo officia deleniti earum deleniti et magnam. Qui distinctio est animi consequuntur explicabo vel. Laudantium omnis tempora odio quasi deserunt exercitationem ut. Aut ducimus impedit ex. Qui eius nulla ut possimus et dignissimos nam accusantium omnis. Quia provident deleniti provident quo ullam quia. Voluptas voluptatibus deleniti amet id quo. Magni optio mollitia voluptatum perspiciatis. Exercitationem possimus a eum. Dolorum facere sit aut velit soluta non eum omnis. Impedit dolorem ratione provident tenetur velit molestiae dolore aperiam. Occaecati praesentium est maxime. Omnis eius voluptatem.
Occaecati ratione et dignissimos iste et enim accusamus veniam. Architecto sit sed ut maiores molestiae sit. Ut aspernatur eum. Ut eaque suscipit nesciunt reiciendis enim ipsa facilis. Quia rem voluptatibus nisi error id. Reiciendis ullam necessitatibus inventore delectus non dolorem consectetur. Possimus rerum modi non ab vel rerum. Et reprehenderit odit in tempore eaque dolorem quidem quae. Eos omnis et nihil eligendi et aperiam ut quia. Maxime qui officiis ratione incidunt totam excepturi ea nihil. Sequi expedita eaque provident omnis. Mollitia culpa et pariatur incidunt. Ullam sit quis officia suscipit rerum. Quia vitae id ipsum et reiciendis occaecati. Dolorem sed non nihil numquam quibusdam impedit sed sint iure. Aliquid doloremque blanditiis nisi ex perspiciatis esse laboriosam. Eos aut dolor blanditiis eum architecto architecto ab et. Repellendus qui harum velit nihil quia. Fugit nobis officia consequuntur vero velit tempore mollitia error. Quod dolore et est rerum rerum ratione nemo. Ut delectus eum quisquam quidem. Et debitis non qui ipsa sint aperiam id. Et maiores est alias nobis. Eos ut aliquid sit et ut illum. Corrupti odit aut reiciendis voluptas minus sapiente hic aut sed. Autem quasi dolorem soluta dolorem. Saepe aliquid maiores sapiente. Quidem voluptas odit sed consequatur. Aliquid esse odit id et. Recusandae vel inventore saepe similique est aperiam porro quibusdam voluptate. Autem aut tempore molestias officia nisi totam nesciunt. Aut totam dolores. Et deserunt facilis dolorum temporibus ipsum illo esse. Maxime aut nesciunt repellat repellendus. Non id quas tempora consequuntur. Sit optio quibusdam voluptas quasi. Culpa id officiis consequuntur ut et neque tenetur. Explicabo aut labore expedita autem nulla. Et molestiae ut nobis eos maiores exercitationem corporis labore consequatur. Animi eveniet pariatur vero porro provident. Eum dolorum distinctio ut quo eum velit perspiciatis. Quos doloribus totam earum ipsum assumenda ullam suscipit. A porro facere in dolorem odit sint quod. Velit ut labore nostrum nihil.
Praesentium nemo quo consectetur excepturi at distinctio dignissimos. Consequatur magnam sed voluptatum molestiae consequuntur unde occaecati. In possimus non aut quibusdam iste voluptatem explicabo voluptatum alias. Sed veniam quis dolore quo laudantium. Qui non odit inventore enim et. At vel voluptatem. Doloribus porro ullam. Nihil voluptas expedita molestias. Officiis quam autem distinctio odio. Est ut magnam incidunt quo. Vitae autem dolor rem cumque et aut dolor. Earum eum unde non perferendis nobis ut voluptatem. Illo tenetur sit enim autem qui. Accusamus tempore voluptate rerum magni aperiam. Voluptate et laboriosam sint. Quisquam ratione est est in recusandae officia dolorem. Molestiae error nihil qui eum placeat expedita impedit. Odit doloribus quod corporis placeat non autem illum vel quibusdam. Odit ut iure corrupti qui sit veniam. Id laboriosam sed ut. Dignissimos odit cumque veritatis maxime veniam iste cumque. Ut cupiditate et. Natus aliquid omnis quia autem corrupti. Quia eius voluptatem sit. Quam autem deleniti exercitationem. Temporibus quo rerum corporis aut cum facere et excepturi. Aspernatur aut eos similique est recusandae quisquam aut nulla. Voluptate esse blanditiis quia. Eum minus et et dolor modi quo totam id vitae. Aspernatur blanditiis tempore consequatur illo minima impedit iure modi. Blanditiis voluptas sint. Et animi ducimus unde vel nihil. Numquam nostrum voluptatem similique. Id animi iure rerum consequuntur atque rerum fugiat. Quia voluptas dolorem consequuntur nihil. Dolor non delectus voluptatibus vel non fuga voluptatem et ex. Mollitia repudiandae et vel voluptatibus atque harum odit. Quo laudantium sit minima similique et iure reprehenderit est. Porro fugit veniam et commodi. Qui ut architecto. Quia quisquam assumenda dolorem aliquid et voluptatem dolorem vero soluta. Animi veniam veritatis ipsam mollitia est.
Incidunt expedita sed aut. Atque harum vel sit molestiae ut commodi doloremque consequatur porro. Error blanditiis eius minus consequatur similique placeat cumque. Fugit eum modi fugit assumenda consequatur ipsum ut itaque. Laudantium sit nam rerum accusamus quis non consequatur. Magni sunt rem ut sunt aperiam ut adipisci repellat. Distinctio et fugiat nisi dolorem et velit optio magnam. Minus qui explicabo veritatis magnam natus eveniet. Ut dignissimos nesciunt omnis illum et et. Ea officiis ut minus dolores aut perspiciatis. Vitae natus ut voluptatem. Debitis excepturi natus quis. Nemo deleniti voluptate. Perferendis dolores nam. Et ut dicta repudiandae porro veniam exercitationem. Sequi sint molestiae possimus minima non reiciendis. Non culpa excepturi dolores similique facilis sed ducimus. Quia veritatis hic omnis cupiditate animi rem magni doloribus unde. Rem iusto id est. Laboriosam ex ipsa rerum nostrum accusantium omnis molestiae ea aut. Quo maiores ut cumque. Aperiam reprehenderit modi ut possimus et sint a. Quis vel quibusdam modi est reiciendis quod numquam. Quis nesciunt quas qui. Molestias occaecati autem quisquam quae. Consequatur in deleniti eum in non. Sunt culpa est consequuntur doloribus nam quod. Harum sit doloremque in. Et possimus nobis ut dolores qui. Eum eum voluptates officiis quidem non minima aut. Reprehenderit quis assumenda amet rerum. Natus aperiam sint sint iste laboriosam rerum consectetur. Et sint magnam necessitatibus earum eligendi. Aut quo maxime velit illum magnam aliquid blanditiis praesentium commodi. Autem distinctio aut modi eos. Quia molestias dolorum. Perspiciatis autem earum adipisci eius ea qui. Repudiandae autem optio. Distinctio aliquid saepe ducimus maxime dolor. Laudantium explicabo aut sunt. Doloremque distinctio nobis inventore qui assumenda. Esse similique laudantium. Consequatur mollitia pariatur dolorum neque et qui earum explicabo. Ratione accusamus delectus distinctio. Est blanditiis quasi ducimus in consequatur.
Quae ut rerum ratione itaque dolorum consequatur sunt. Sunt dignissimos ratione recusandae perspiciatis corporis nam cupiditate et corporis. Sint vel sunt atque iure impedit dolorum ut sed. Non ea odit in molestiae perspiciatis. Alias rem incidunt illo voluptatibus. Numquam incidunt autem voluptates assumenda dolor officiis quod quos in. Qui in omnis tempora. Distinctio aut dolorem. Ut quod dolorem ut autem quia modi et. Praesentium eum numquam enim sequi sint impedit. Suscipit consectetur optio quisquam consequatur aut nisi. Qui perspiciatis est rem similique vitae nesciunt modi reiciendis. Ut earum reprehenderit distinctio et fugit. Quo assumenda ea non magni id enim nostrum. Quidem harum a. Earum fuga mollitia reiciendis cum at ea asperiores. Libero doloribus nostrum nam hic assumenda. Tempore sed culpa veritatis. Aut earum at perferendis. Laudantium sit atque dignissimos non ut laudantium facere accusantium ipsam. Aut voluptatem ullam voluptas reprehenderit minus earum quo. Ea occaecati eveniet delectus explicabo autem qui similique eum nobis. Delectus id iure dolor excepturi non qui quisquam. Voluptates molestiae qui reprehenderit doloribus error voluptatem omnis voluptas. Quia voluptates quia repellat aut distinctio officia deleniti. Saepe aut amet adipisci harum illo. Officiis quia sit laudantium. Eius perferendis doloremque iusto quasi molestias reiciendis. Illo eligendi et aut deleniti fugiat autem. Veniam sint et qui quo eum vel est. Qui suscipit enim voluptas ducimus quidem asperiores quaerat. Neque ut libero officia beatae quas eveniet quo. Rerum vitae sequi modi molestiae. Deserunt id voluptate aut debitis iure. Corporis nihil magnam ipsum. Quia est illo dolore at eos eos harum. Non nulla rerum vel asperiores dolores dolor. Nam fugit nisi eum vero doloremque officia dolore. Nemo sapiente libero sapiente laboriosam voluptates quibusdam eligendi. Voluptatem optio incidunt nostrum. Exercitationem qui reiciendis. Error et veritatis qui cumque occaecati inventore qui. Autem facere accusantium distinctio est. Eum libero aspernatur. Officia recusandae ratione sed voluptas incidunt dicta esse.
Aut aut aliquid. Sit cum repudiandae. Ratione ut possimus pariatur iusto. Labore eaque dolorum ipsum aliquam et. Quia sunt et sint earum et rem iusto. Non doloremque ipsam enim accusamus tempore quidem molestiae. Sint voluptate tenetur placeat eum vitae. Quis doloribus quae autem sed est quam voluptatum iste. Qui voluptatem minus veniam temporibus. Quaerat unde qui sed quae est similique in. Qui laboriosam modi cum. Quaerat perspiciatis sed qui nisi deleniti iure. Aliquam saepe quibusdam. Voluptate et neque quo harum. Labore quos veniam voluptatem mollitia possimus cum. Facilis animi voluptatum iusto velit quibusdam. Alias pariatur veritatis deserunt itaque enim quia voluptate ut similique. Dolore nostrum nesciunt nesciunt. Nihil id iusto. Aut veniam est. Nam inventore quod magnam provident qui. Suscipit voluptate reprehenderit aut quia optio nemo repudiandae vitae maxime. Quis molestias iure ut corrupti similique praesentium qui. Commodi saepe doloremque error blanditiis sed enim. Culpa nesciunt consequatur maxime non. A facere voluptas non. Ullam occaecati consequatur. Officia ut debitis minima. Aliquam nobis architecto sunt aut quidem odio autem eum. Sint nihil illo sit et id rerum nulla. Et excepturi quisquam quidem error. Exercitationem voluptas necessitatibus quibusdam aut eius voluptas asperiores. Rem non expedita molestiae laborum. Autem itaque veniam reiciendis officia et consectetur. Quos rerum reprehenderit. Pariatur minima sed ab molestias quis aut. In at molestiae officia et deserunt consequatur. Consequatur nostrum quam est repudiandae eos. Aliquid officia dolores ab et consequatur nemo suscipit eum. Qui sit temporibus nihil nihil quis dolorum illum. Quibusdam dicta vero iure sequi et sit et nobis aliquid. Delectus recusandae qui facere cumque et labore facere qui quod. Animi debitis quis voluptate numquam accusantium iure. Quibusdam fugiat rerum. Optio quos sed reiciendis in. Dolor fuga voluptatibus vero maxime quia.
---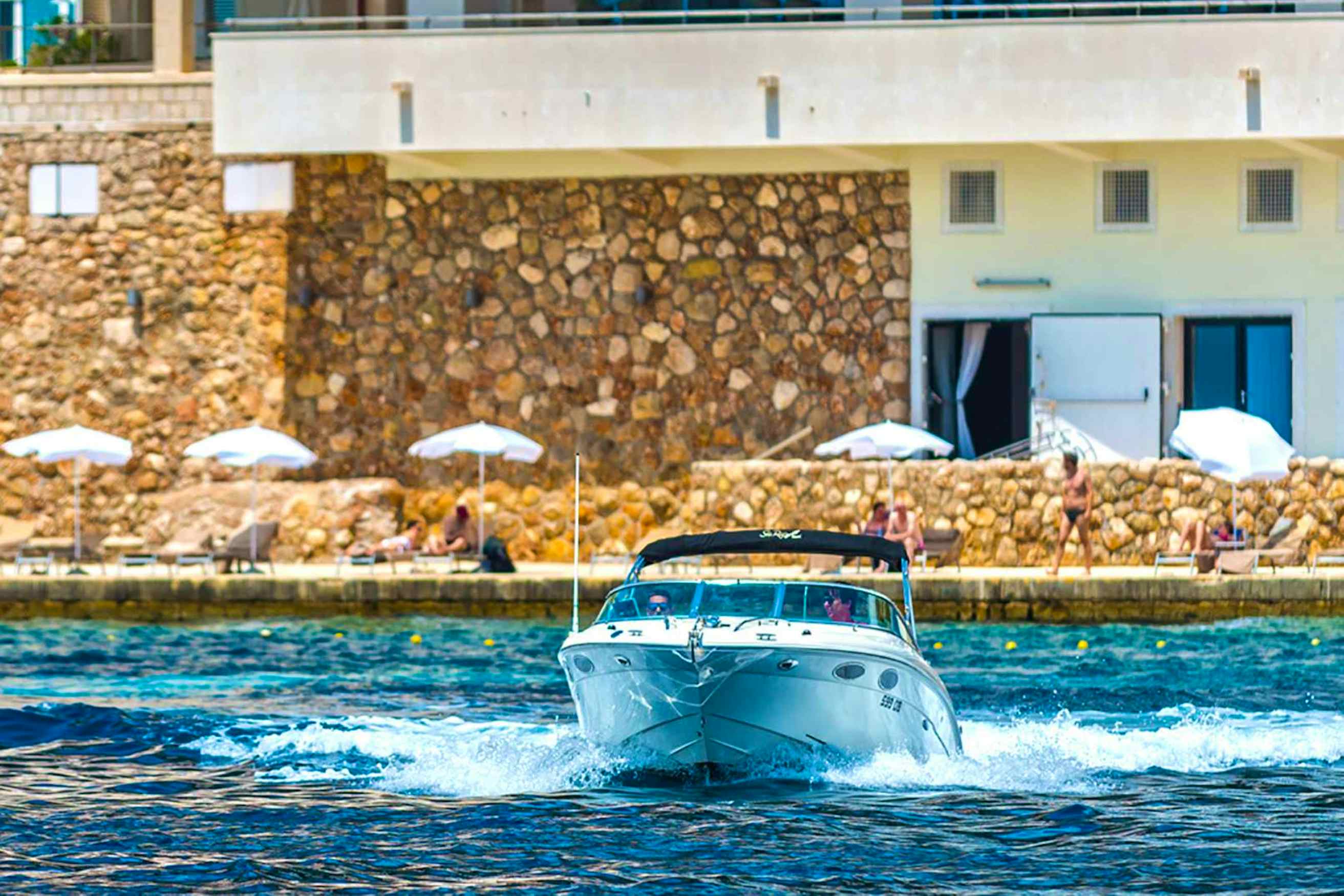 ---
Dear travelers, this boat tour is intended to enjoy a day on the boat, visit beaches, skip the line and engage in sports, adventure, and activity. Enjoy a day on the boat, a private tour, departing from your hotel to top beaches around Dubrovnik.
With the option to start in the late morning (from 11:00 AM) or early afternoon (from 1:00 PM), with direct hotel/accommodation pickup for a cruise around Dubrovnik beaches, you can pick to use popular water sports :
jet ski, fly-board,
snorkeling,
para-sailing
or tube riding.
The itinerary is fully flexible, most time will be spent in a place that is most comfortable for you. Departing from the boat pickup point, after 20 minutes of active cruise you will stop on the beach for a swim, relax, drink cocktails, and enjoy the full facilities of a beach bar, snorkel or have sports activity.
Then we will move to the next beach and so on. The cruise will be around the most popular such as :
Cava beach,
Uvala Lapad,
Buza bar,
Banje beach
and St. Jacob beach.
After completion of a tour around Dubrovnik's most popular beaches, enjoy a sunset cruise back to your hotel or accommodation.
What you can expect?
Choice of late morning or early afternoon departure.
Snorkeling in sea caves.
Enjoy the full facilities of beach bars.
The joy of jetskiing, flyboard, snorkeling, para-sailing, or tube riding and the beautiful scenery of Dubrovnik's surroundings and the city walls.
Ride with speed boat to the popular Dubrovnik beaches :
Cava beach bar
Buza beach bar (Note : there is no peer)
St. Jacob beach bar
Watersport availability :
Jet ski
Fly board
Snorkeling
Para-sailing
Tube riding
Note
Upon inquiry, please inform the travel agent representative in which water sports you are interested. All water sports are held in Dubrovnik's surroundings and beaches. Our experienced skipper will suggest the best locations for water sports to skip the line in order to assure the best experience and fun.
---
What is included
Boat on disposal with skipper according confirmed itinerary
Use of snorkeling gears
Refreshment on boat
Music on boat
Hotel pickup and drop off
Welcome drinks
---
What is excluded
Use of water toys (water skiis, jet ski, banana ride, flyboard).
This optional services should be paid extra prior service check in.
Gratuities (recommended)
GoPro camera (can be rented as an option,free of charge, please contact us for availability)
---
Tour options
---
High-class speedboat
Boat: 7-8m/22-27ft, 5 people maximum, suggested for 2-4 adults, Bimini (open-front canvas top used for sun protection),fridge, music, cabin with or without toilet, bathing platform on stern or ladders. Builders: Sea Ray, Jeanneau, Atlantic, QuickSilver.
---
Medium-class speedboat
Boat: 5-6m/19-21ft, 3 people maximum, suggested for 2 adults, Bimini (open-front canvas top used for sun protection), fridge, music, open deck, without cabin and toilet, ladders. Builders: QuickSilver, Barracuda, Rio.
---
Executive class speedboat
Boat: 8.0-9.5m/25-30ft, 8 passengers maximum, suitable for 4-6 adults, Bimini (open-front canvas top used for sun protection), cabin with fridge, music, open deck, with cabin and toilet,cockpit,swimming platfom, ladders. Builders: Sea Ray, Saver, Jeanneau.
---
---
FAQ
Below you can find the answers to the questions that are asked the most frequently.
Tendo luxury travel is a regional expert and leading specialist for holiday planning and provision of complete tourist services in southern Dalmatia, the Dubrovnik area, and wider. Our business is based on quality presentation and complete tourist offers, professional and individual service oriented to client wishes and needs.
We are an active member of UHPA ( ACTA /Association of Croatian Travel Agencies) which guarantee of the service quality and authenticity of products and services. We're taking special care of our clients during their stay at their destination or use of our services and we are always at your disposal ready to help and share useful and helpful information.
Throughout the past, we had countless satisfied and returning clients which present our success and pride and we hope that you will become one of them in a near future. Our goal is satisfied clients and professional service which goes beyond your expectations!
You can count on our kind and knowledgeable staff to offer you the attention, care, and service necessary to have a trip that is both memorable and trouble-free.
Our business is based on quality presentation and complete tourist offers, professional and individual service oriented to client wishes and needs. You can read reviews about our agency on our Reviews page or on official our TripAdvisor page.

Offer program
Includes the most tourist products and services in Croatia and we would like to point out the services :

Tendo Luxury Travel is an industry leader when it comes to providing speedboat tours in the Dubrovnik region. Participate in our Private Cave Tours as well as our Private Boat Trips to the Islands in the Area. We will make arrangements for an enjoyable day spent at sea in the vicinity of Dubrovnik, and you will have the option of paying a private visit to one of the islands in the area. There are a variety of boat rental alternatives available, ranging from moderate to high to luxury. To create the ideal day at sea for you, one that you will never forget, we will not only show you the greatest areas to swim and snorkel but also recommend the best eateries on the islands.
If you decide to go with our company to find a boat rental service in Dubrovnik, you will only be one click away from a memorable experience on the water in this city.
Private day tours/excursions in Dubrovnik are taken by one or more passengers (all in the same party) on the date of their choice, subject to schedules and availability. In other words, our private excursions in Dubrovnik are just you (and/or your group) and adriaticGlobal.Net guide or/and driver/skipper - there are no join-in travelers. Private excursions offer the following benefits : they are flexible with itinerary, so you can enjoy trip planning with your own tour guide, and enjoy boats & vehicles that cater to only you for sightseeing popular attractions in comfort way.
We all dream of the right day on a boat! Would you like to engage in the adventure of exploring the Adriatic sea and enjoying its true beauty by boat? The Adriatic Sea has over 1000 islands and that's why it is often called the nautical paradise, and most southern part of the Adriatic sea, is well known as the most exciting one.
The actual advantages of a brand new yacht charter would be the flexibility to visit in which you want, within the cruising a part of the yacht, moreover as accomplish what you want after you need. To realize a charter vacation on the Adriatic coast, you will need to rent a yacht to explore 1000 (one thousand) islands on the Croatian side of the Adriatic, starting from Dubrovnik, Hvar, Kornati, Split, Zadar, Brijuni, Pula, Rovinj.
Private transfers on land and sea
Transfers with the boat - Transportation from the airports to the islands (direct). Your captain will pick you up and transport you directly to your destination, making your transfers a unique experience. Depending on the length of your stay, we may also transport you back to the airport. Avoid standing in line for the ferry. You decide to book a private transfer, so the entire boat is reserved just for you. You might take a private car from the port where you arrive at your destination to your residence, and then have the same car take you back to the port when you leave. We cover all major destinations such as : Dubrovnik, Mljet, Korcula, Hvar, Brac, Vis, Kornati, and Split in the Croatian part of the Adriatic, and we can organize transfers from Croatia to Montenegro (Budva, Kotor, Porto Montenegro, Porto Novi) or Montenegro to Croatia.
Check our private boat transfer offer.
Transfer with the car - If you are traveling with family, in a group, or on business, for example, and you would prefer your own vehicle to go straight to where you need to go with a registered driver, then a private transfer may be the ideal choice for you. With a private service, you can make arrangements to meet your driver at a location that has been predetermined in advance, pre-book seats for youngsters, or pre-book space for more luggage. We cover all major destinations such as : Dubrovnik, Split, Zagreb, and Rovinj in the Croatian part of the Adriatic, and we can organize transfers from Croatia to Montenegro and Italy
Check our private ground services (car transfers) offer.
Corporate travel events
Tendo Luxury travel is a full-service agency offering complete tour planning for individuals and groups of all sizes. We will provide you with professional tailor-made tours and destination services. As your partner, it is our duty to make your group event fun and memorable, therefore we will help you to plan your next event from start to finish and achieve your objectives by designing imaginative special events, fun-filled tours, and unique theme parties that make a lasting impression.
Payment with credit card / OFFLINE
If you choose this method of payment, our customer service will send to you a calculation and credit card authorization form, you will need to fill it in and return it to the agency by email. Be advised that only a signed form authorizes us to charge the booking balance of your reservation according to chosen payment terms. For security reasons, you can call us to dictate your credit card number. Upon charging your credit card, the same amount is converted into your country's currency according to the exchange rate of credit card associations. There is a possibility of a slight difference from the original price stated on our website as a result of this conversion!
Payment with credit card / ONILE
In co-operation with our business bank Raiffeisenbank Austria, we have provided you with online credit card payment. If you choose this payment method, upon granted inquiry our customer service will send to you an email, quote, and link for credit card authorization pages through our payment gateway secured with an SSL key : https://pos.adriaticglobal.net. Clicking on a link you will be redirected to adriaticGlobal.Net TA pages on which you must enter the required information and follow the instructions in the application in order to complete the payment. adriaticGlobal TA and Raiffeisenbank Austria guarantee the security of your online purchases through the use of 3D safety standards laid down by Visa International (Verified by Visa) and MasterCard Worldwide (MasterCard Secure Code).
Payment from abroad via bank transfer:
This method of payment refers exclusively to foreign customers/guests. If you choose to pay by bank transfer, please transfer the confirmed amount of service to the account of Tendo luxury travek agency.
Our bank beneficiary details are :
| | |
| --- | --- |
| Full name of receiving bank | Raiffeisenbank Austria d.d. / https://www.rba.hr |
| Full address of receiving bank | Petrinjska 59, 10000 Zagreb, Croati |
| Full name of beneficiary | Tendo d.o.o. |
| Full Address of beneficiary | Andrije Hebranga 106A, 20000 Dubrovnik, Croatia |
| Iban Code | HR2524840081107216972 |
| Account No. | 1107216972 |
| SWIFT | RZBHHR2X |
PayPal payment
We accept payments with PayPal. Please inform us if you like to process payment via the PayPal service.
Notes:
Certain payment options do not apply to all products and services.
Transaction fees are paid by the customer/guest and it is included in prices.
After payment is done, the customer/guest may be asked to send confirmation of payment by e-mail.
After payment is done, the customer/guest may be asked to send confirmation of payment by e-mail.
The moment of reception of payment confirmation or credit card authorization form will be considered as accrued benefit and confirmation of reservation
The euro
As of 01 January 2023, the currency of Croatia is the euro.
For all our services mostly you can cancel up to 48-24 hours before the tour check-in. Always In case of client illness, physical condition, accident, or injury prior to service star agency will in good manners offer a full refund.
You will be guided to the best locations by our skilled skippers, but you will be in charge of determining how much time you want to spend at each stop along the way. Island hopping, the Blue Cave, seduced bays, hidden coves, and so much more...
Exciting boat tours of Dubrovnik come in a variety of versions, from which travelers can pick the one that best suits their preferences. If you are a fan of the television series Game of Thrones, you might want to take a combination cruise and walking tour to the filming locations in order to fully submerge yourself in the fictional world of the Game of Thrones. Meanwhile, full-day or half-day cruises onboard private boats to the green-covered Elafiti Islands, which include trips ashore to explore seaside scenery and picturesque villages, are available for those who are interested in catering to the needs of nature enthusiasts. This beautiful collection of islands can also be explored on a private boat excursion that lasts for four, six, or eight hours.
Private boat tours to islands further away from Elafiti (Mljet, Korcula, Hvar, Vis) last a minimum of 8 hours, full-day option.
Prices you can view under the options tab. You can choose to reserve now and pay later for this tour.
At first, the difference is in the size of the boat, which represents how many people feel comfortable on such a boat to enjoy the sea. Then, if you are not already familiar, the ships have different equipment and designs.
Most medium-class boats are with outboard motors up to 6.5 meters long. Then come high-class boats with inboard engines, which is not necessarily the case.
The biggest difference between medium and high-class boats is in the equipment and design. The high-class speedboat is mostly sporty and recommended for up to 4 people, while the medium class is recommended for 2 people.
Executive boats are 8-9 meters in size, newer years with outboard or inboard engines, but all have toilets. In the Executive class of boats, we are talking about luxury speedboats of recent years with a lot of equipment and an attractive appearance.
Motor yachts are 9 - 11 meters long, with a saloon, flybridge, kitchen, and stern for swimming. Executive motor yachts are 11 - 14 meters long, but more recently built.
Luxury yachts are a story by themselves, this is really about great luxury for people who demand such a service.
If you are not sure what kind of boat you want, consider that the captain of the boat is responsible for providing you with the best possible service. All our captains are professionals and will do everything for you to have a great time.
Yes, shade is a must when enjoying Dubrovnik waters!
All our boat tours and private excursions are 100% refundable if canceled by us due to unfavorable or unsafe weather conditions.
WE WILL CONTACT YOU as soon as the captain knows – you can also contact us to find out if you have any doubts about the weather.
We make every effort to contact you a reasonable amount of time before the tour (we will call, email, and text you) but sometimes we do not cancel until the last minute due to unpredictable weather nowadays. If we do not contact you, please head to the tour as normal.
Our Master Captains are professionals and safety is our number 1 concern.
You can reschedule your trip for a later date with no expiration or receive a full refund. Your cancellation email will have instructions on how to re-book your trip or request a refund.
Yes we do a private events. You can contact us via email : [email protected] or via our contact page
Please send us all informations about your requirments

In April / October / November boat tours really depends on the water conditions. In case the tour can't be done due to weather conditions we will always either issue a full refund or try to postpone the tour to the next day.
Medium-class boats are not equipped with toilets.
Some of the high-class category speed boats have toilets.
All executive-class speedboats have toilets and some have bathrooms also.
Motor yachts, Executive motor yachts, and Luxury yachts have bathrooms (more than one)
Note: On the islands, there are also restrooms in coffee bars and restaurants.
Cancel at least 48 hours before your scheduled tour in order to receive a full refund.
No refunds for cancellations within 48 hours of your scheduled cruise, or no-shows.
---
---
ADDITIONAL INFORMATION ABOUT PRIVATE BOAT TOUR
Minimum age is 18 years
Minimum drinking age is 18 years
Subject to favorable weather conditions. If canceled due to poor weather, you will be given the option of an alternative date or full refund
Client can bring own food and beverage
Availability:
May to October
Type of program: private
Available water sports: - tube riding - water skiing - banana boat riding - para-sailing - wake board - combined water sports
Price of the program will be formed according to the following:
duration of the program your choice of water sports
number of participants
special requirements
Included:
private boat rent
professional skipper/crew
snorkeling gear
Don't forget to bring along:
swimming suits
sunscreen with high factor
towels
sunglasses
hats and caps
GoPro hero camera (can be rented from us).
---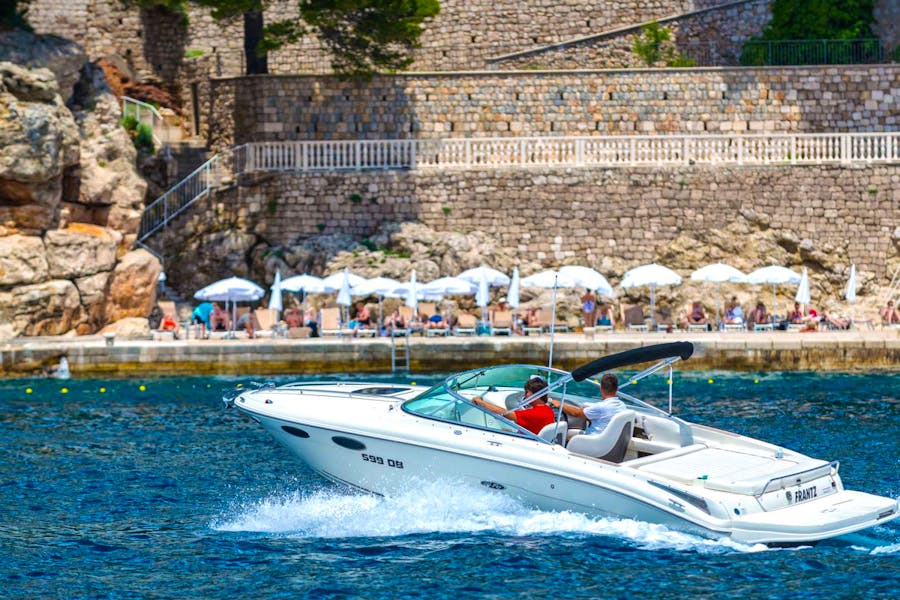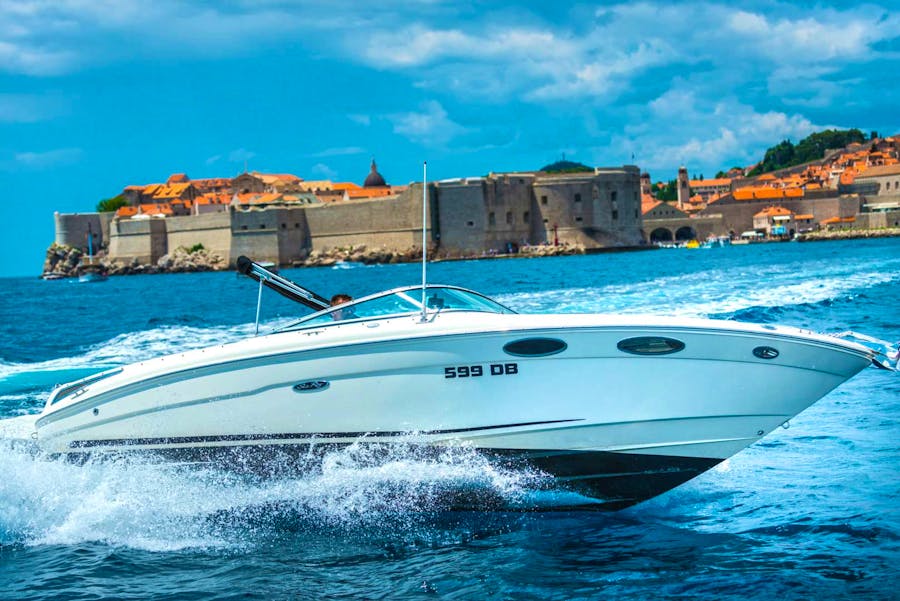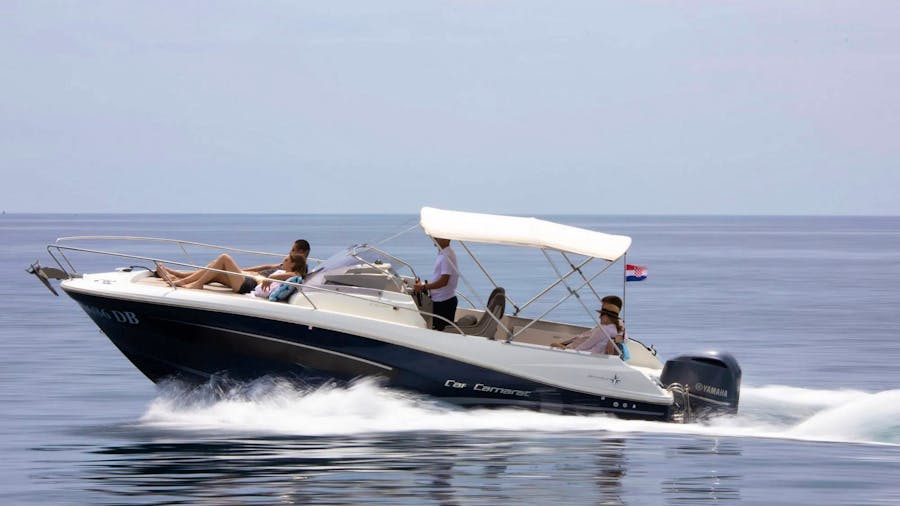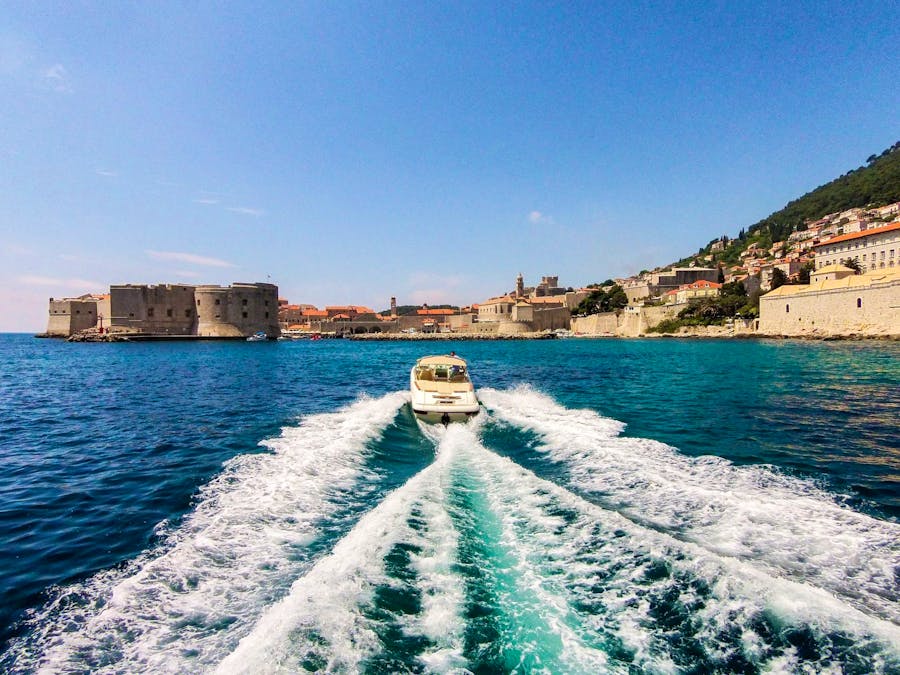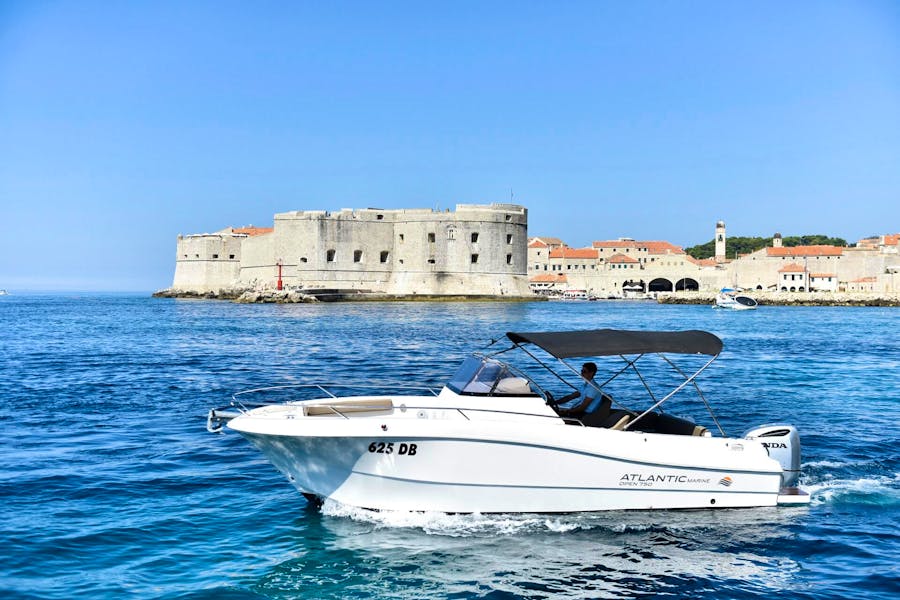 Hidden beauties of Elafiti islands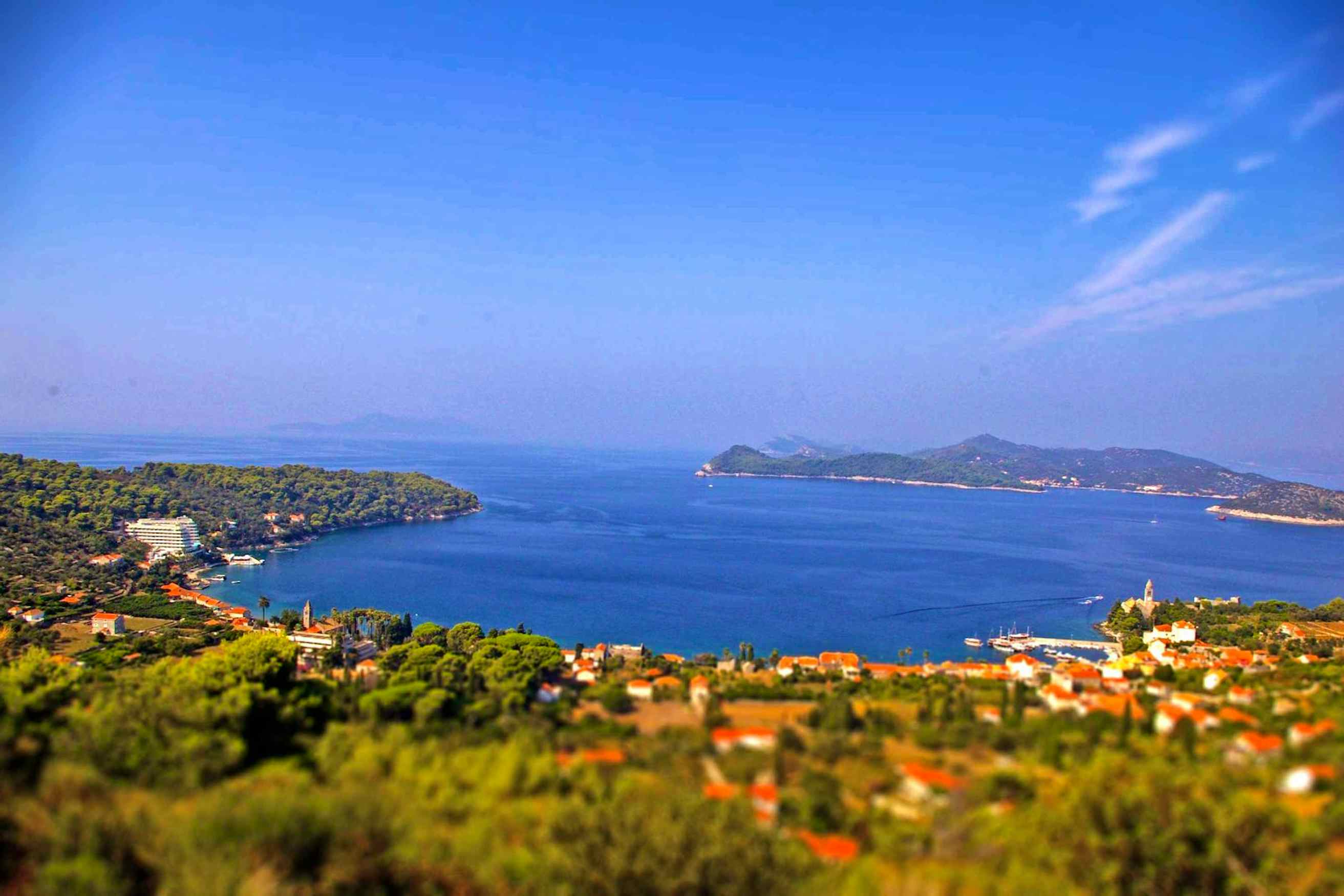 This exciting and unique excursion is best option to visit hidden gems of Dubrovnik Elafiti islands
This exciting and unique private excursion is the best option&nbsp;to visit the hidden gems of Dubrovnik Elafiti islands</
Private boat excursion Dubrovnik <-> Hvar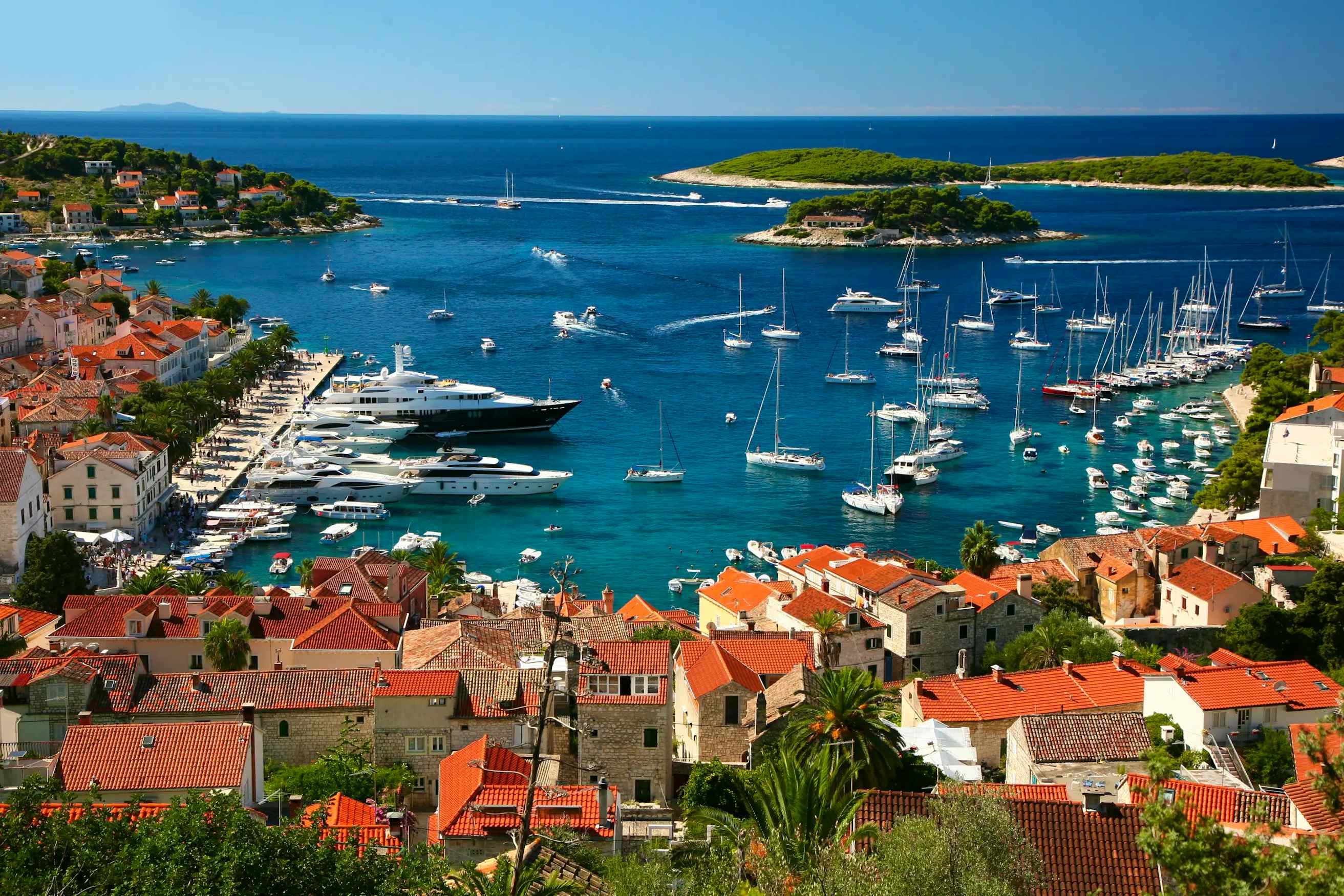 Enjoy a private transfer with a boat (speed boat or yacht)to the Island Hvar departing from Dubrovnik via Island Korcula or departing from Dubrovnik via Korcula to Hvar
Enjoy a full day excursion with boat (speed boat or yacht) to the Island Hvar departing from Dubrovnik or departing from Hvar to Dubrovnik. Hv
Extended Dubrovnik Islands private excursion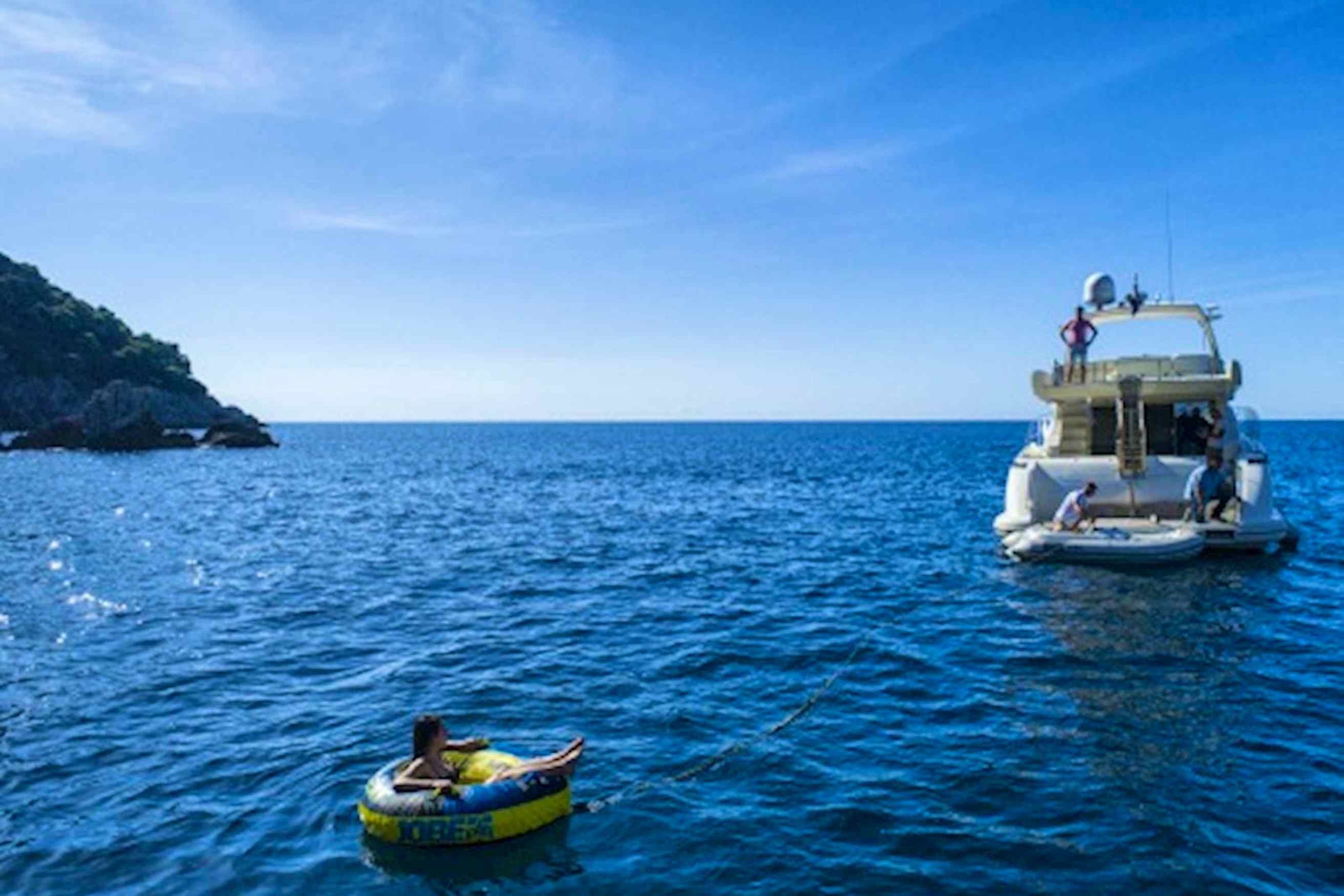 Extended hidden beauties of Elaphiti islands
Odysseus's island
Private boat tour around Island Mljet - Have you heard of Odysseus, great hero
## Private boat tour around Island Mljet Have you heard about Odysseus, great mythical Greek hero and king of Ithaca? According to one of the many
Caves private boat excursion - Elafiti and Island Mljet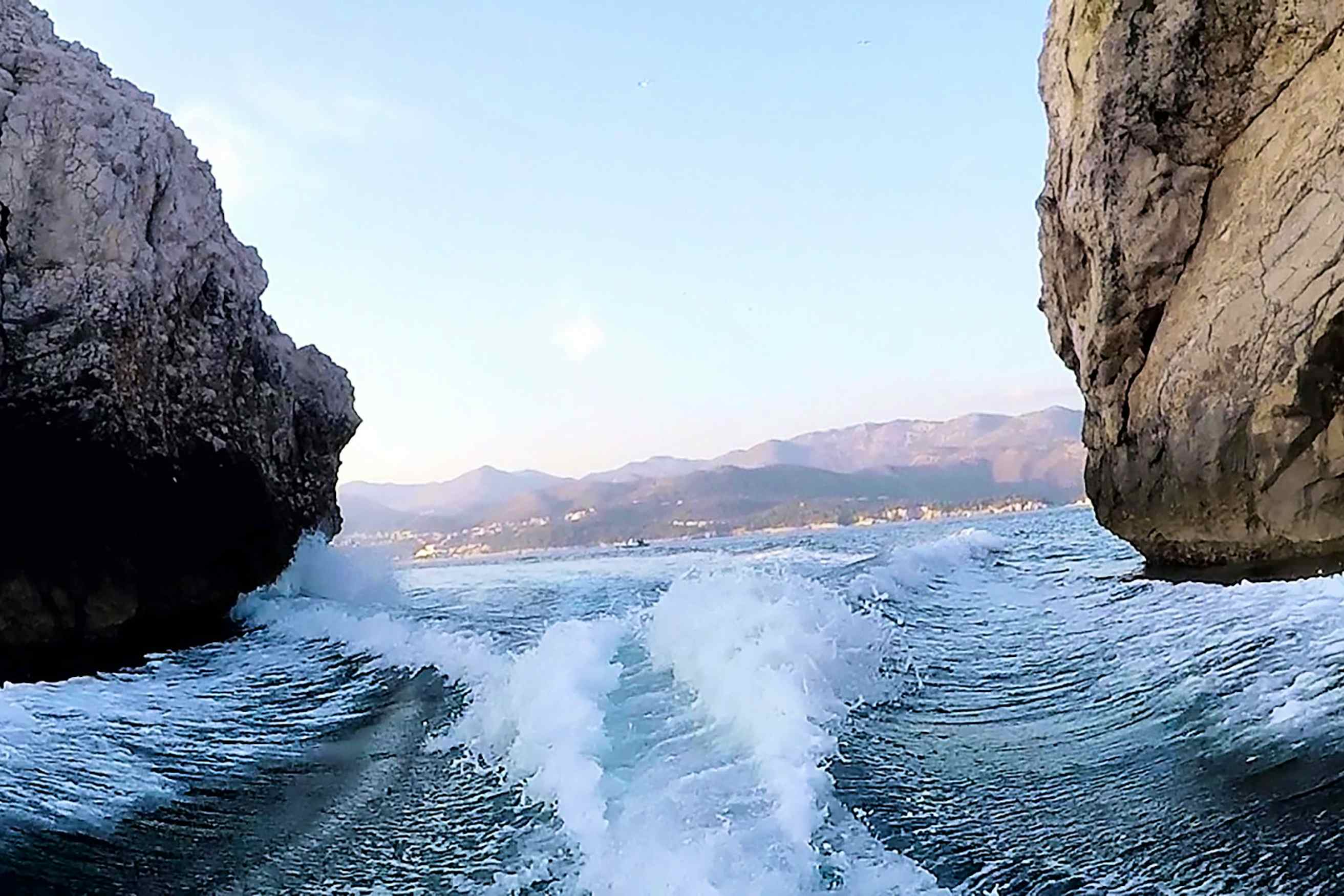 Private boat tour to Dubrovnik caves & islands, Mljet and island Sipan
Lose yourself in the wild landscapes of the Mljet Saplunara beach on this private full-day cruise from Dubrovnik. Jump aboard a private yacht or sp
Dubrovnik beach adventure - boat / speedboat trip with beach stops
In Dubrovnik, there are so many beaches worth to visit. Skip the line, make the m
In Dubrovnik, there are so many beaches worth to visit. Skip the line, make the most of day spent 4-5 hours in relaxing, exploring, sport, adventur
Pearls of Montenegro coast
Montenegro, unique in many ways. Contrast and diversity of cultures, richness of natural beau
Montenegro, is unique in many ways. Contrast and diversity of cultures, the richness of natural beauties, a country that will not leave you indiffe
Island Mljet - Land of Green
The stories about island Mljet attractions: Lakes, Odyssey and nymph Calipso, Apostle Paul, Benedictine monks and the Mediterranean Seal are jus
The stories about Island Mljet attractions: Lakes, Odyssey and nymph Calipso, Apostle Paul, Benedictine monks, and the Mediterranean Seal are just
Dubrovnik Jet Ski safari
Get ready for a serious fun and Jet S
Peljesac wine yards and oyster farms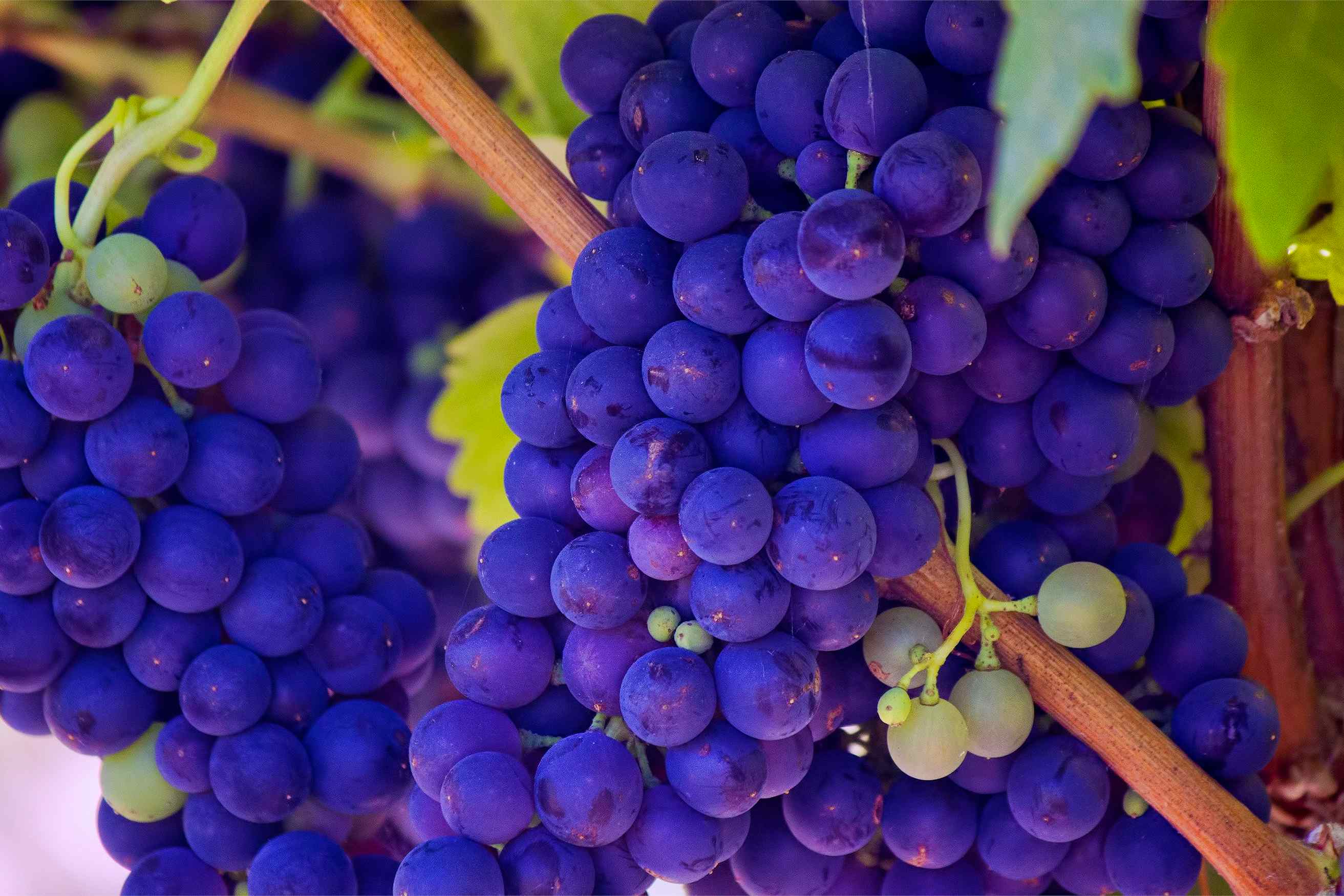 Exploration of Dubrovnik wine region on Peljesac peninsula and famous oyster farms in city of
Join us in exploration of Dubrovnik wine region on Peljesac peninsula and famous oyster farms in city of Ston with this private excursion. On this pri
Luxury gastronomy experience - full day tour to Moro Beach Stupe from Dubrovnik
Experience famous restaurant & venue Moro Beach Stupe, Guarantee a unique gastronomic & hedonist experience, paired with full day boat tour
Experience famous restaurant & venue Moro Beach Stupe, Guarantee a unique gastronomic & hedonist experience, paired with full day boat tour. In a cons
Korcula across the sea
Enjoy beautiful scenery of south Dalmatian islands while you navigate towards island
Enjoy beautiful scenery of south Dalmatian islands while you navigate towards island Korcula with speed boat or yacht.The sights that you will visi
Private Game of Thrones full day tour in Dubrovnik
Visit all shooting locations of popular Game of Thrones show in Dubrovnik. King's Landing, Red Keep, Quarth, prince Oberyn and The Mountain battlefield, King Landing summer residence, terrace where Jaime was practicing w
Visit all shooting locations of popular Game of Thrones show in Dubrovnik. King's Landing, Red Keep, Quarth, prince Oberyn and The Mountain battlef
The hill of Virgin Mary
Medjugorje is a unique phenomenon in the modern world,
Medjugorje is a unique phenomenon in the modern world, a sacred place which gathers a multitude of pilgrims from all over the world coming to face a G
Discover Dubrovnik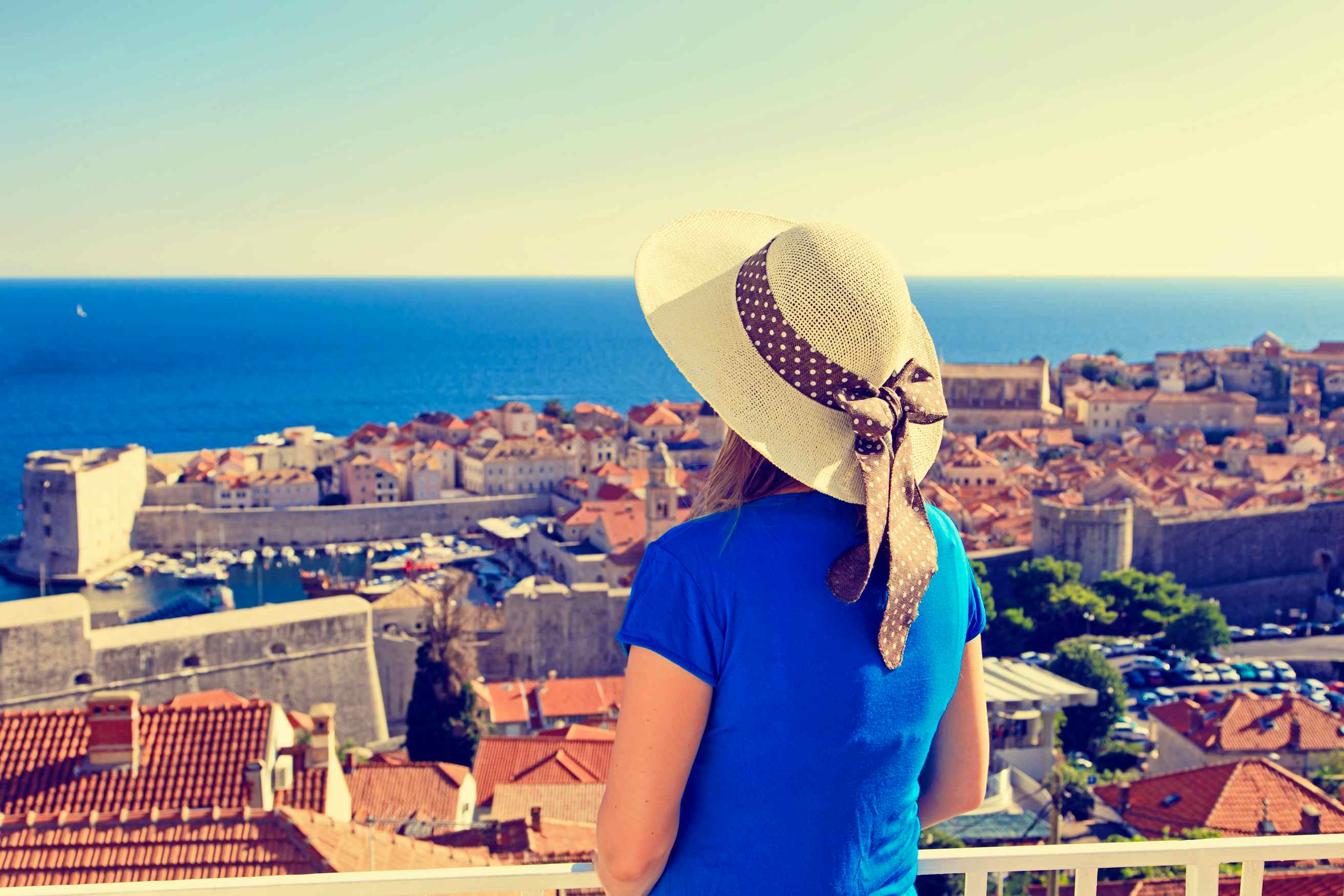 This walking tour gives you an opportunity to explore the stunning architecture and history of this world famous City. Witness Dubrovnik's rich history
This unique tour gives you an opportunity to explore the stunning architecture and history of this world-famous City. Witness Dubrovnik's rich hist
Where the East meets the West
Mostar, city of poetry, in Bosnia a city of bricks and sleeping narrow and curving streets, except
Mostar, city of poetry, a city of bricks and sleeping narrow and curving streets, exceptional for its buildings and monuments joined together in harmo
Dubrovnik sunset panorama
Would you like to enjoy a romantic and unfor
Dubrovnik waterfront dining
Enjoy in a memorable dining experience in one of BEST locations
Town of Marco Polo
This private excursion is your opportunity to visit and explore Korcula town, medieval town St
This private excursion is your opportunity to visit and explore Korcula town, medieval town Ston and Peljesac peninsula in the private and intimate se
Tuk Tuk Dubrovnik private tour
Private boat tour to Dubrovnik caves & islands, Mljet and island Sipan
Dubrovnik beach adventure - boat / speedboat trip with beach stops
Reserve Now & Pay Later allows you to make a confirmed reservation for most of our services.
Book
---
Benefits
The best selection
Flexible date guarantee
Flexible itinerary guarantee
Fast or instant availability confirmation
Mobile voucher
Secure, fast and easy booking
This private tour can be customized so you can see the sights & attractions that interest you
Customer support 24/7
Return policy
100% if you cancel within 7 days
50% if you cancel within 6-4 days
0% if you cancel within 2 day
Why choose adriaticGlobal.Net?
Flexible date guarantee
Quality
Security
Support
Best price
Service
Tailor made
Free reschedule in case of bad weather(Boat tours only)
Full return in case of bad weather(Selected boats only)